Christmas in Alsace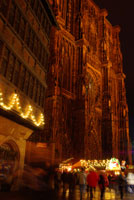 December in Alsace means Christmas market which is a street market associated with the celebration of Christmas during advent, mainly the four weeks preceding Christmas Day.
Strasbourg is a living example of the spirit of Christmas. It first started holding its Christmas market around its famous cathedral in 1570. Since then, the town's reputation has spread throughout Europe thanks to its tradition of commerce but also its spirit of tolerance.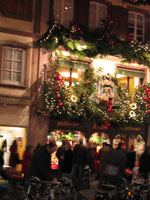 The environment then becomes unique. Starting from the twilight the windows of the shops becomes shining, spiced odors of cinamon point out our memory of childhood, the Christmas carols resound out of the churches.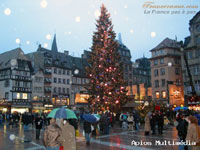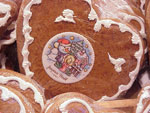 In order to meet thousands of visitors each year who come here to do Christmas shopping and soak up the festive atmosphere, Strasbourg is every year getting more beautiful. Decorated Christmas trees, enlightened garlands, historical buildings enlightened, Strasbourg puts the city under fires of the slope. From the Place de la Gare where visitors flock in their thousands into the city, to the historic heart of the city in Petite France; from the Place de la Cathédrale to Place Broglie, historic sites of the Christmas market; from Place Kléber where the Christmas Tree majestically towers over shoppers, to Place d'Austerlitz, transformed into a "Forêt de Délices" (Forest of Delights); tastes and scents mingle with sweet Christmas music, inviting visitors to enter a world of dreams.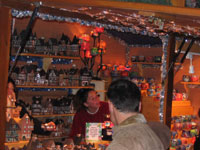 At this time the city also shows its true face: that of a city that is both anchored in tradition, with a Christmas Market that is almost five centuries old, and a modern city capable of offering a wealth of activities, partly due to its concentrated network of associations; concerts, events for children and adults, guided tours, exhibitions, sporting or cultural events, etc. To all the people of Strasbourg as well as to all our visitors.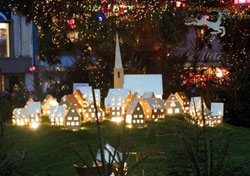 Source : http://www.weihnachtsmarkt-deutschland.de
To see more : http://noel.tourisme-alsace.com/